The people to whom this Memorial is dedicated will never know the full extent of their legacies and the gratitude that [we] have for them. To their descendants, to whom the University owes a tremendous debt, I hope you find some comfort in this space. May we all draw courage and healing from our ancestors as they live on in all of us.

Ishraga Eltahir, UVA Alumna and founder of the Memorial for Enslaved Laborers student group
Historians estimate that 4,000 men, women and children built, labored, and lived at the University of Virginia from 1817 to 1865. Very little is known about the details about their lives. A record of daily life at the time, work ledgers and the personal letters of slave owners remain important primary sources to learn about this community. Engaging with this archive is to understand the ways in which the lives of the enslaved were laced with silences and violence.
This community survived enslavement, while their descendants forged ahead through Reconstruction, the racial violence of lynching, and the reconstituted oppression of Jim Crow segregation. In the face of unequal education, deficient voting rights, and inhumane health care, they built tightly-knit Black neighborhoods only to see them later bulldozed for urban renewal and University expansion.
In conversations about the process of making the Memorial, "Remember their names" and "Say their names" were constant refrains. This dialogue, which continues beyond the Memorial's dedication, furthers the conversation about how to remember the contributions and lives of the enslaved community who built, worked, and lived at the University. Understanding of the conditions that fostered slavery and white supremacy, the Memorial is a place to reflect on the impact that these conditions had on the lives of so many.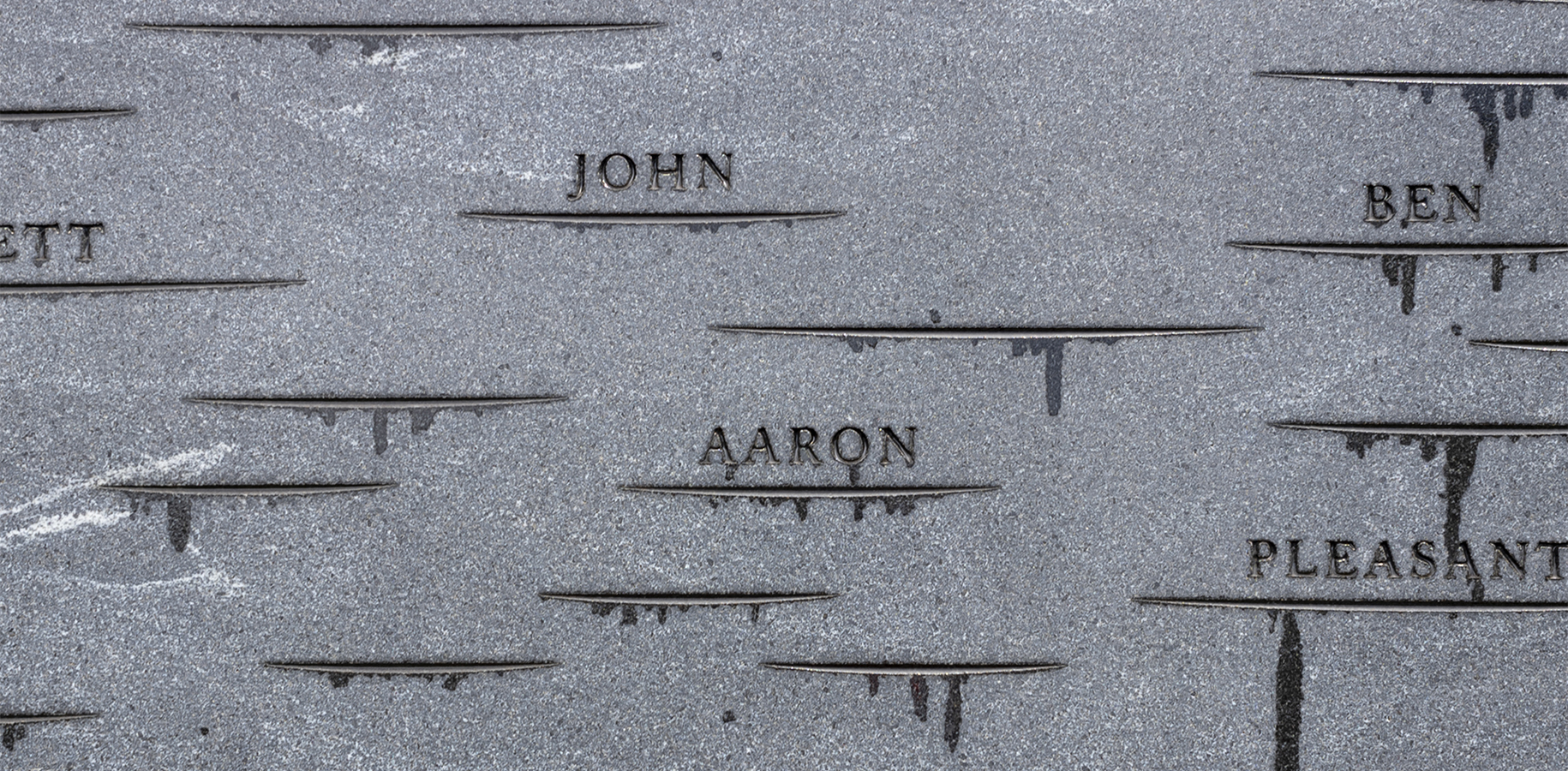 Image Credit
Sanjay Suchak
Although details about the lives of the enslaved community are scarce, all are recognized on the inner arc of the Memorial. This inner wall slopes away from visitors as it rises and is gouged with thousands of "memory marks." Taken together, these "memory marks" reveal a large genealogical cloud that stretches across the Memorial. As visitors walk along the Memorial they are enveloped by this cloud of names, relationships, and occupations in chronological order. This cloud of marks represents the thousands of individuals who lived, loved, worked, and died as enslaved people at the University of Virginia.
Some of the memory marks have names above them: Sam the Carpenter, Moses, Isabella Gibbons, and a few hundred others. But, the vast majority do not. The erasure of individual identity from the historical record is yet another legacy of the enduring violence of slavery. In a profound gesture to preserve the dignity of the many unnamed, some of them are denoted by their kinship with others—"mother," "'son," "husband"—or by their skills—"carpenter," "midwife."
This collective community of names, relationships, and occupations stands in for those who labored to build the University, daily animated its landscape, and sustained its operations from 1817 to March 3 of 1865, when Union troops marched into Charlottesville and liberated over fourteen thousand enslaved people.
Necessarily incomplete, the inscriptions were designed so that additional names can and will be added to the wall as they surface—either through further historical research or through descendant engagement. The first new names were added in January 2021.
Image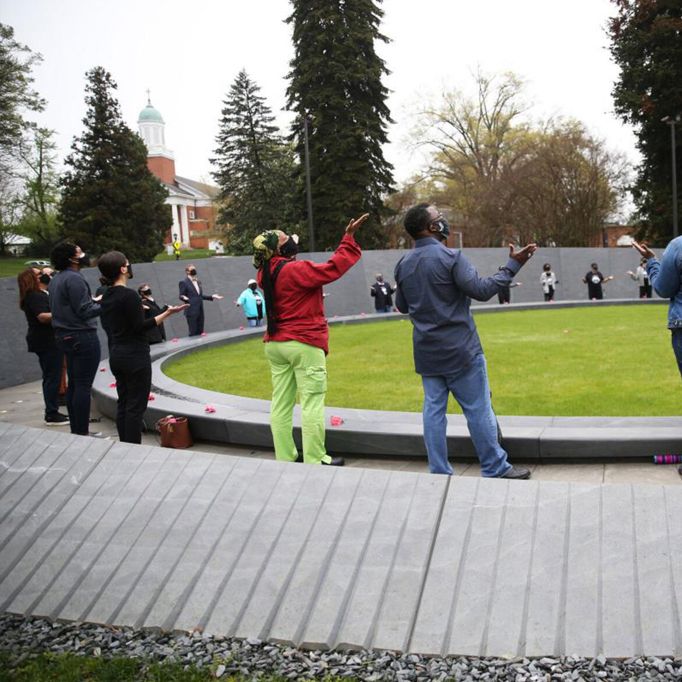 Image Credit
Rick Stillings
Descendants of Enslaved Communities at UVA
The collective voice of all descendants of enslaved and free Black communities who labored at UVA
If you or your family believe you might be a descendant, click here to connect with the Descendants of Enslaved Communities at UVA
Bertha French is the Co-Chair of the Memorial to Enslaved Laborer's Descendants of Enslaved Communities (DEC) at UVA. An overview of the Descendant Community and their mission from Bertha follows below.
The group Descendants of Enslaved Communities (DEC) at UVA is one of a growing number of organizations of descendants of enslaved laborers from the Commonwealth dedicated to preserving the memory of the many who shaped not just the physical but the political, economic, and cultural landscape of the University of Virginia, Charlottesville, and our nation. Descendant communities are highlighting the foundational role that race-based slavery, white supremacy, and colonial systems played in building many of our nation's institutions, including our current systems of finance, education, health care, and housing. Empowered descendant voices challenge the public to consider marginalized interpretations of history and center the gaps in ethical education about the history and ongoing legacies of American chattel slavery.
The DEC at UVA sees the University of Virginia as an African-American historic site built by the 4,000-plus enslaved laborers identified through university-led archival research, and whose biographies continue to be unearthed by our organization. The University literally would not be here if it were not for those ancestors. To tell the truth and help people reckon with this history, the descendants seek to research and reclaim the narratives of history, to honor the legacies of enslaved and free Black communities and their descendants, and to achieve restorative justice for communities rooted at the University of Virginia and surrounding regions. Through its Membership, the DEC strives to identify, engage, and build community with the descendants of free and enslaved families associated with building and sustaining the University of Virginia.
The Descendants of Enslaved Communities is an independent non-profit organization that was founded to better advocate for respectful and responsible engagement from the University and to insist on the work of repair. In partnership with a genealogist, they are reaching out to other descendants—many scattered across the country and unaware of their own history—inviting them to join their efforts. This possibility, too, is suggested by the Memorial: the design shelters an inner circle of grass, a space dedicated to the necessary work of congregating and taking collective action.
Further Resources
Renée Ater, "Slavery and Its Memory in Public Monuments," American Art 24, no. 1 (Spring 2010): 20-23.
Craig Evan Barton, ed. Sites of Memory: Perspectives on architecture and race. New York: Princeton Architectural Press, 2001.
Ira Berlin, "Coming to terms with slavery in twenty-first century America," Slavery and public history: the tough stuff of American memory, edited by James Oliver Horton and Lois E. Horton. New York: New Press: Distributed by W.W. Norton, 2006.
Daina Ramey Berry, The Price for Their Pound of FLESH: The Value of the Enslaved, from Womb to Grave, in the Building of a Nation. United States: Random House Inc, 2018.
Kenneth J. Bindas, "Re-Remembering a Segregated Past: Pace in American Memory," History and Memory 22, no. 1 (Spring/Summer 2010): 113-134.
Douglas A. Blackmon, Slavery by Another Name: The Re-Enslavement of Black Americans from the Civil War to World War II. London: Icon, 2012.
Christa Dierksheide, "The great improvement and civilization of that race: Jefferson and the 'Amelioration' of Slavery, ca. 1770-1826," Early American Studies: An Interdisciplinary Journal 6, no. 1 (Spring 2008): 165-197.
Meghan Faulkner, Slavery at the University of Virginia: A Catalogue of Current and Past Initiatives, University of Virginia IDEA Fund, January 2013.
Lois E. Horton, "Avoiding History: Thomas Jefferson, Sally Hemings, and the uncomfortable public conversation on slavery," Slavery and public history: the tough stuff of American memory, edited by James Oliver Horton and Lois E. Horton. New York: New Press: Distributed by W.W. Norton, 2006.
Maurie D. McInnis and Louis P. Nelson, ed. Educated in Tyranny: Slavery at Thomas Jefferson's University. Charlottesville and London: University of Virginia Press, 2019.
Angel David Nieves and Leslie M. Alexander, ed. We Shall Independent be: African American place making and the struggle to claim space in the United States. Boulder, CO: University Press of Colorado, 2008.
Annette Gordon Reed, The Hemingses of Monticello: an American family. New York, NY: W.W. Norton & Co., 2008.
Mabel O. Wilson, "Tell Slavery's Violent Story Through Its Architecture," Al Jazeera America, April 6. 2015.
Wilder, Craig Steven. Ebony and IVY: Race, Slavery, and the Troubled History of America's Universities. London: Bloomsbury, 2014.
Editorial Note
Editorial note: This essay on the Community Memorialized draws on existing materials and articles written by Louis P. Nelson, Mabel O. Wilson, and Charlette Caldwell; brochures about the life of enslave laborers at UVA created as part of the President's Commission on Slavery and the University; and an excerpt from Bertha French's speech at UVA's event dedicating the Memorial in April 2021.