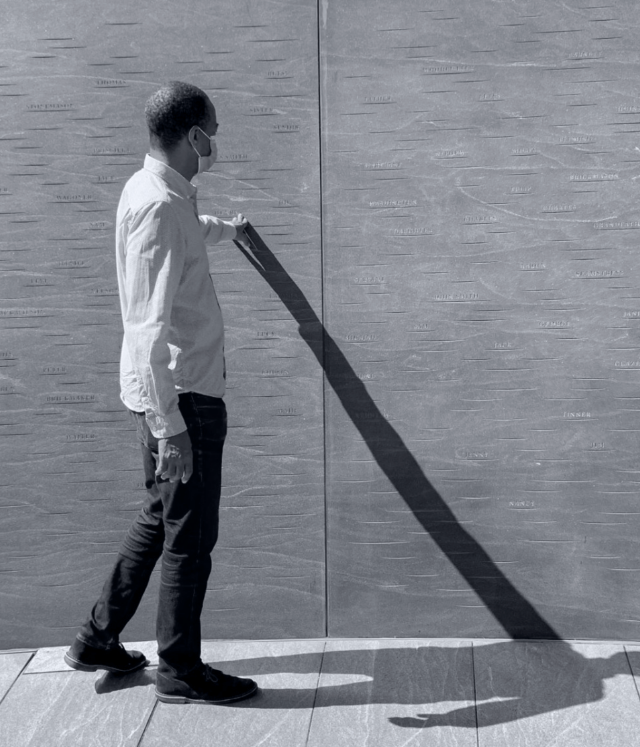 Image Credit
Courtesy of Howeler and Yoon
Overview
The University's Division for Diversity, Equity, and Inclusion acts as stewards of the Memorial in collaboration with Descendants of Enslaved Communities at UVA, as well as the students, faculty, staff, alumni, and community members who remain committed to furthering the work of the President's Commission on Slavery and the University. You can read more about this commission's work at slavery.virginia.edu.
This website is maintained by the Division for Diversity, Equity and Inclusion at the University of Virginia. If you have questions or comments about the Memorial or this website, please contact us at [email protected].
The Memorial was made possible by the thoughtful work of the design team, a dedicated community engagement committee, and a wide range of community voices that provided guidance and feedback throughout the process.
Design Team
Höweler + Yoon Architecture, Architect and Designer
J. Meejin Yoon, Eric Höweler
Namjoo Kim, Caroline Shannon, Anna Kaertner
Studio &, Designer and Cultural Historian
Mabel O. Wilson
Frank Dukes, Community Engagement Facilitator
Gregg Bleam, Landscape Architect
Gregg Bleam, Aaron Bridges
Eto Otitigbe, Artist
Silman, Structural Engineering
Nitsch, Civil Engineering
WSP, MEP
George Sexton Associates, Lighting Designer
DEW, Water Feature Consultant
Team Henry Enterprises, General Contractor
Quarra Stone, Stone Fabrication and Installation
Common Name, Typography Design
MEL Community Engagement Committee
Meghan Faulkner (chair)
Cecil Banks
Bobby Battle
Carolyn Dillard
Kellen Renner-Thomas
Joy Elmore
Tierney Fairchild
DeTeasa Gathers
Jessica Harris
Sarita Herman
Pam Higgins
Mary Hughes
Alexis Mason
Kristin Morgan
Louis Nelson
Shelley Murphy
Stacy Smith
Cauline Yates
Other Community Input
100 Black Men of Central Virginia
African American fraternities and sororities
Albemarle High School
Black Professional Network
Black Student Alliance (BSA)
Buford Middle School
Central Virginia History Research Group (CVHR)
Charlottesville High School
City of Promise
Collegiate 100
Daughters of Zion
Ebenezer Baptist Church
Faculty Senate
General Faculty Council
J.P. Burley High School Alumni
Jefferson Area Board for Aging (JABA)
Mason's Lodge
Monticello High School
NAACP
Office of African American Affairs
The Ridley Scholarship Fund
Trinity Episcopal Church
Union Run Baptist Church
UVA IDEA Fund
UVA Black Alumni
Virginia Humanities
Zion Union Baptist Church
UVA
The Memorial is part of a larger, ongoing process at the University spearheaded by the President's Commission on Slavery and the University (PCSU). The PCSU was formed in 2013, guided by the work of groups such as the Memorial for Enslaved Laborers student organization, the UVA Inclusion Diversity Equity Access (IDEA) Fund, and University and Community Action for Racial Equity (UCARE). The process of planning, designing, and executing the Memorial was overseen by the Office of the Architect and Facilities Management. The ongoing work to shepard the future of the Memorial is overseen by the Division for Diversity, Equity, and Inclusion in collaboration with Descendants of Enslaved Communities at UVA.
Giving
The Memorial is a significant step in the University's plans to embrace the story of the enslaved workers at UVA and to ensure it is told broadly across Grounds. As the home of one of the world's most distinctive landmarks, UVA is not just committed to preserving our historic Grounds for the University's third century. The University is fully committed to ensuring that future generations of students and scholars are better able to understand the complete history of slavery at UVA, located on  this UNESCO World Heritage Site.
If you would like to make a contribution directly to Descendants of Enslaved Communities at UVA to support their work, including ongoing genealogical research and educational outreach, you can do so directly at descendantsuva.org/donate.
 
If you would like to make a contribution to support the University's ongoing work related to Memorial to Enslaved Laborers programming and initiatives, you can do so here.
FAQ
Do I need a reservation to visit the Memorial?
A reservation is not needed to visit the Memorial. The site is free and open to the public. If you desire a guided tour you may contact [email protected].
Do you offer guided tours? How long will it take to go through the sites?
Guided tours of the Memorial (45-90 minutes) will be offered by the student-run University Guide Service (U-Guides), and can be arranged by contacting them through their website: uvaguides.org. Please note that at this time, U-Guides are not offering tours due to the pandemic. Descendants of Enslaved Communities at UVA (DEC-UVA) offers tours, and can be contacted by reaching out to [email protected].
Is the Memorial ADA accessible?
Yes. The Memorial is ADA accessible via parking spots on Hospital Drive.
Is the Memorial appropriate for children?
The Memorial is a place of contemplation, and may be inappropriate for children without guidance and active adult supervision. Lessons have been developed for educators and can be accessed here.
When is the Memorial closed?
The Memorial is an open, outdoor site that is publicly accessible.
What provisions have been made regarding COVID-19?
The most recent COVID-related updates and policies can be accessed at: https://coronavirus.virginia.edu/.
Do you have guided resources for K-12 students and teachers?
Yes. Guided resources may be found here.
How do I find a name on the Memorial wall?
An interactive feature to assist with locating a name on the Memorial wall is forthcoming. If you need assistance prior to its release, please reach out to [email protected].